The Junior Coaches Of A Strategic Thinker & Growth Marketers
Lim Jin Haur (Von Lim) A strategic thinker, growth marketer, junior coach/ mentor, creative designer, and the founders of MyVpsGroup, Von Production, and Von Vps Management – an online breakthrough learning platform which create syllabus from various industries to transfer their skill set and enable the people to enhance the industrial landscape and business scale.

Through his knowledge and experience, Von Lim had founded Von Vps Management as a platform to guide business owners to save money on Online Marketing.

Von Lim is the embodiment of the entrepreneurial spirit that takes action to help the community he is in and makes the world a better place. He now plans to give back to society by spreading his knowledge about online marketing and encourage young entrepreneurs to build a Sustainable Business Model that will benefit the community.
Malaysia to Singapore
At the age of 26
I didn't start off very successful, not in high educated. In fact, when I started over two decades ago, I had just come to Singapore as a poor and "lousy boy". Back then, I had no money, knowledge, connections and skill set as well. And I couldn't speak a word of English.

To make things worse, I was a own credit cards, loan... I was the black-sheep in my family and some of the "member" are "looking down" on me when i was young... And I was known as the dumb-ass who got myself into the debt...

Lucky for me, I met my few mentors in my growing journey, before I met them, I had nothing and I was bleeding money every month. They advice and change my mind and guide me to build a correct mindset, I started to learn harder and make my self no excuses!

I'm attend Dato Sri Adrian Wee teacher Die With Massive Debt, and Platinium Courses with very sincerely and focus to built my skill sets.

What Are Platinium Courses?

1. TTE (Train The Entrepreneur)

2. PCI (Quantum Leap Property & Business)

3. BSR (Bank System Richest)

4. 10X (Performance QLP Program)

5. KPi (Reward & Punishment System)

This was my experiences that I would like to share with you. NOTHING IS IMPOSSIBLE! Once I build my skill set I successful to clear my 1st badge of debt! YES! Miracle to a young man who was not really outstanding and dumb. Now, I already built-up my passive income, and continue to build more and more.

NEVER STOP LEARNING! KEEP BREAKTHROUGH! KEEP FOCUS!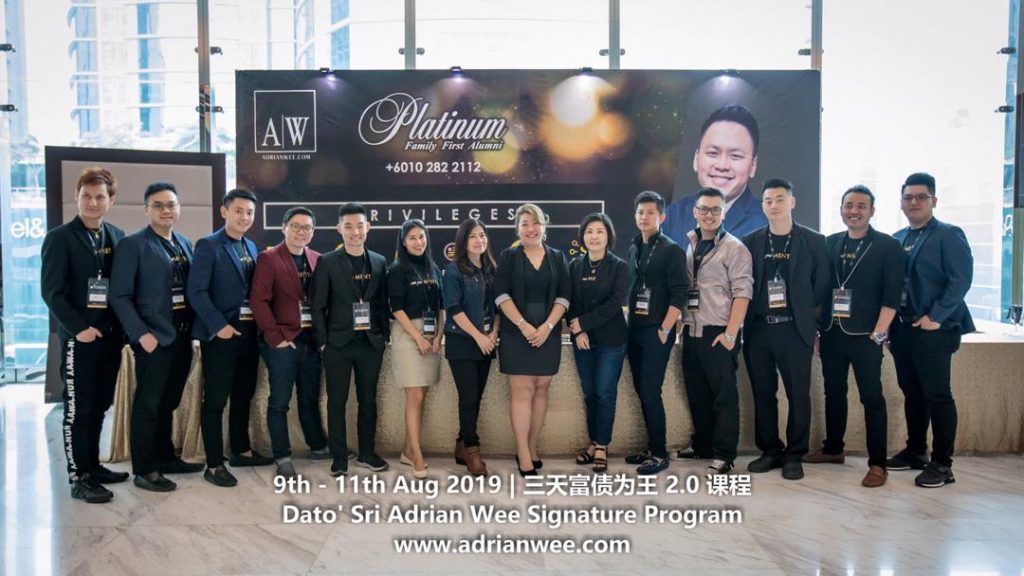 VON LIM
FOUNDER OF MYVPSGROUP

【易经 | 易理】【宇宙营销】【财道】【超强大脑】
【心灵潜能】【吸引力法则】【商业兵法】
Von Lim 整合了自己最强的
7大中心思想理念与创业新手者们分享。
让创业的新手们在分享中从而领悟出自己的方式。
从而做出最精准的商业决策、避免更多的冤枉路、避免更多的损失。

以几步小小的动作掌握最精准、最快和获取最大的成果。
盘古开天辟地,女娲捏土造人,伏羲仰天开创先天八卦,周文王牢中修造后天八卦。

易经是千年国学,是老祖宗留下来的至尊宝典。

易经可为东方管理之术,也可以趋吉避凶。
营销是一门深不可测但又极其简单的技术、艺术。

艺术营销的深奥在于无招胜有招,虚虚实实,如同战国兵法,每个计略都是决定营销最后的成果。

营销如同艺术
营销艺术如同无相。
知识就是力量,知识是启发智慧的关键,越多的知识累积,就会做出越多的正确决定。

知识是硬实力!大脑的开发是必然的,如何使用最强大脑,每个人都可以。

大脑是需要被训练的!
心灵与思维相互相成,潜意识的影响必然造就意识。

心灵决定意识,
意识决定思维,
思维决定行动,
行动决定结果,

吸引力法则的主要精髓在于抛开所有负能量,专注于正能量的走向,以达到更快更好的成果。

只有在负能量和人生低谷的正能量才是正能量!
财商,一切从相信开始,无中生有,空手套白狼。

人,带着光而来,必有使命在身,金钱的管道如何疏通,财商里解释得一清二楚。

环境是始终的关键,宁可在富人堆里当穷人,也不可在穷人堆里当富人。

君子爱财,取之有道。
古人的兵法出神入化,鬼谷子所传的七十二计术,孙武的孙子兵法,姜子牙的奇门遁甲,诸葛孔明的兵法二十四篇。

这些经典是今天市场营销里致胜的关键,排兵布阵和经营企业其实没有什么分别。

精通兵法必定精通企业管理,这是其中一个的不二法门。
Follow our social media now
Thank you for supporting us. Von Lim Founder of MyVpsGroup