Dato' Sri Adrian Wee
拿督斯里
黄天成
Meet you and my master of international transformational speaker. He frequently speaks in Vietnam, Malaysia, Thailand, Singapore, China, Indonesia, Myanmar, Laos and Cambodia.
Dato' Sri Adrian Wee, who is a renowned international speaker, master coach, property entrepreneur, esteemed interior designer, and author of the book "Die With Massive Debts."

Dato' Sri Adrian is the selected few speakers in South East Asia who has shared the same platform with the world-class speaker such as Anthony Robbins, Robert Kiyosaki, Nick Vujicic, and Jay Abraham through Success Resource.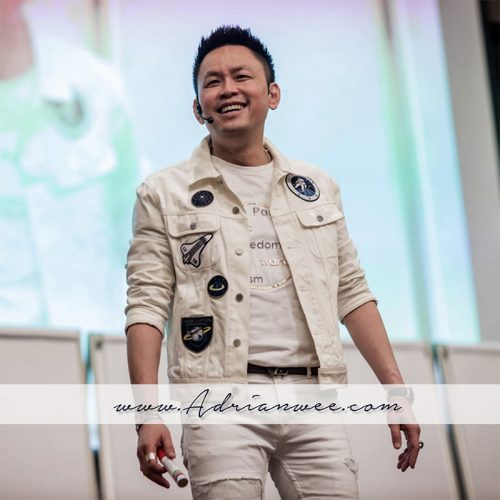 His signature course – "Die With Massive Debts" – has taught over more than 30,000 students on how to acquire wealth by leveraging on bank loans.

As of now, the group has collectively generated over more than RM1 billion in bank loans and mortgages. Dato' Sri Adrian Wee's himself has personally accumulated over RM 72 million worth of loans under his own name. See Latest Event Activity and Schedule.


Just like the name of the workshop, this is a workshop that taught students to achieve financial freedom not through saving but through Property Science and debts.

Students are taught the important criteria to be aware of when doing due diligent for property to avoid overvalued properties. On top of that students will also learn the formulas and calculations of finances which personally used by Mr. Adrian Wee as a property investor himself.

As an experienced property investor, he would like to share his years of experience with the students and guide them to create wealth exponentially.
Die With Massive Debts 3.0
What I have been learned In Die With Massive Debts is truly valuable for my life. Here again to take an opportunity to thanks my skills transfer mentor, Dato' Sri Adrian Wee.

Now I'm preparing to invest my second and third property in Malaysia with stable and safety planning. Here I'm sharing with you what I learn from Dato' Sri Adrian Wee.

Click the below button and to have FREE 3 hours Preview Ticket, this 3 hours have the possibility to change your whole property mindset and life.


Dato Sri Adrian Wee Reviews & Testimonials
拿督斯里 黄天成 评论与推荐
Dato' Sri Adrian Wee is the embodiment of the entrepreneurial spirit that takes action to help the community he is in and makes the world a better place. He now plans to give back to society by spreading his knowledge about property investment and encourage young entrepreneurs to build a sustainable business model that will benefit the community.
Dato Sri Adrian Wee
New O2O Commerce Program
Adrian Wee O2O Commerce Accelerator Program, let Siifoo guide you, how to combine your traditional business model and to create a new peak for business
Follow our social media now
Thank you for supporting us. Von Lim Founder of MyVpsGroup